blood lipids Blood pressure
The product is a world-recognized blood lipid regulator, which is made by extracting from "specially-made red yeast rice". It combines modern high-tech biotechnology with traditional Chinese medicine, which can safely and effectively regulate blood lipids in a comprehensive way with proven curative effects and reliable safety.
Pharmacological Effects: the product can reduce blood cholesterol, triglycerides, low density lipoprotein cholesterol, improve high density lipoprotein cholesterol, inhibit atherosclerotic plaque formation, and protect vascular endothelial cells; and inhibit lipid deposition in the liver. The large-scale evidence-based research has proven that long-term use of XUEZHIKANG can greatly reduce the risk of CHD occurrence and decrease the mortality. XUEZHIKANG is the only Chinese medicine with blood lipids regulating function which is listed into the National Basic Medicine List.
bjective: To investigate the effects of Xuezhikang capsule (XZK) on blood lipids level, platelet activation and coagulation-fibrinolysis activity in patients with hyerlipidemia.Methods: Seventy-six patients of hyperlipidemia were randomly divided into two groups, the XZK group (n = 38) treated with XZK 600mg, taken two times per day and the Simvastatin (SIM) group (n = 38) treated with SIM 20mg per day, with the treatment lasting 8 weeks for both groups. Levels of fasting serum lipids, including total cholesterol (TC), triglyceride (TG), high and low density lipoprotein cholesterol (HDL-C and LDL-C), plasma GMP-140, fibrinogen (FIB), tissue plasminogen activator (t-PA), plasminogen activator inhibitor type-1 (PAI-) and prothrombin time (PT) were all measured before and 8 weeks after treatment. Data were compared before and after treatment and also compared with those measured in 20 healthy subjects of control.Results: Before treantment the levels of TC, TG and LDL-C were obviously higher and HDL-C level was significantly lower in hyperlipidemia patients than those in healthy subjects (P<0.05 orP<0.01). After 4–8 weeks of XZK treatment, the levels of TC, TG, LDL-C and FIB and activities of GMP-140 and PAI-1 were obviously lowered (P<0.05 orP<0.01). But in the SIM group there was no obvious change in FIB (P>0.05), instead it showed obvious increase of HDL-C and decrease of TC and LDL-C after treatment (P<0.05 orP<0.01).Conclusion: XZK could inhibit platelet activity and improve coagulation-fibrinolysis function, besides its lipids lowering effect.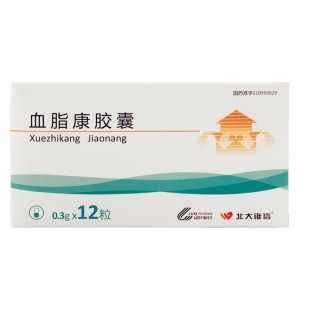 Buy 6 get 1 for free Name: Xue Zhi Kang Package:0.3gX12 capsule&n..
Showing 1 to 1 of 1 (1 Pages)